Visit
Alicante and Castillo Santa Barbara, dating from 16e to 19e century for the grand panorama of the city.
Elche(Elx) with the largest palm forest in Europe.
Huerta del Cura, a garden with exotic palm trees, Palacio de Altamira
La Calohorra, Arab fortress XIV century.
Rojales: beautiful golf course, etc., cave dwellings.
In a beam of 30 miles. to Torrevieja there are more than 10 golf courses with the world famous Real Club.
The waterfalls of Algar, where you can swim.
The mountain village of Guadalest and Benidorm (Terra Mitica for the children).

Recommendation
Visit the quiet villages of Mori's style, in the near of Alicante:
Vall d'Ebo
Vall d'Alcalá
Vall De Gallinera
Vall de Laguart
Gata de Gorgos

Guadalest with its houses built in crevices of the mountain. The village and its castle are a historical and an artistic monument. The many museums in Guadalest .
Valle del Pop, with its small villages.
Lliber s Xaló (Jalon) with its antique markets every saturday and their wine cooperations.
The water fountains and waterfalls of Callosa d'en Sarria, Fuentes del Algar known by the beautiful nature.
Climb to the Coll de Rates for a fantastic panorama.
Discover the natural park Sierra de la Bernia.
The town Orihuela, for its Gothic, Renaissance, Baroque Arts.
Visit the:
Monasterio de Santo Domingo
Catedral de San Salvador
Palacio Episcopal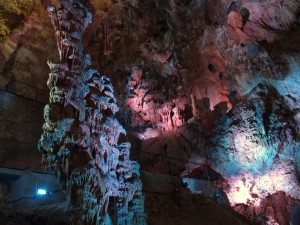 Las Cuevas de Canelobre with their stalagmites and stalactites.
One of the best European Speleological Centra.
Discover La Isla de Tabarca, a natural monument (for pirates and buccaneers)
20 minutes by boat from Santa Pola or 60 minutes from Torrevieja.
Take a route which guarantees the Middle Ages: the Castell de la Mola in Novelda, in Petrer visit the Sax, the proud of La Atalaya the Villena, Biaren, Castalla.